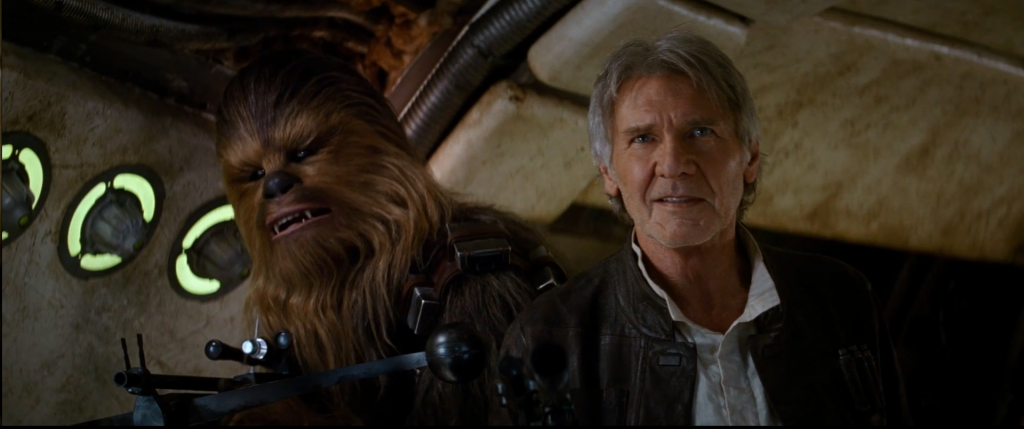 Zaczyna się, jak jeden z tych filmów, w których weteran wojny wraca rdzewiejącym buickiem do chaty na prerii albo wśród kukurydzianych pól Kentucky. Szerokie ujęcie, piaszczyste wzgórza, mała sylwetka pojazdu sunąca w tumanach kurzu równolegle do horyzontu. Tylko że kamera się przesuwa i stopniowo odsłania pokiereszowaną sylwetę wraku olbrzymiego, zarytego w piachu Gwiezdnego Niszczyciela. Są ciary? Są. I nie ustępują, gdy w następnym ujęciu widzimy równie pokiereszowany, dobrze znany czarny hełm z maską, a w tle o rodzinnej przypadłości opowiada nam starszy o wiele lat Luke Skywalker.
Reżyser J. J. Abrams, jak zauważa Wired, na spotkanie z fanami Star Wars w Anaheim dostarczył nie tylko pizzę dla tłumu koczującego przez wiele godzin w kolejce. Przyjechał z nowym, drugim teaserem siódmej części Gwiezdnych Wojen, która ma nosić tytuł "Przebudzenie Mocy" (pierwszy teaser, przypomnijmy, wzbudził emocje głównie za sprawą zakapturzonej postaci z mieczem świetlnym wyposażonym w świetlny jelec).
Nie ma chyba drugiej takiej produkcji w popkulturze, której takie zastępy fanów tak uważnie patrzyłyby na ręce. Klasyczne trzy części z lat 1977-1983 – "Nowa nadzieja", "Imperium kontratakuje" i "Powrót Jedi" – uznawane są zwykle za platoński ideał, a wyprodukowane w latach 1999-2005 trzy pierwsze części sagi ("Mroczne widmo", "Atak klonów" i "Zemsta Sithów") obarczone zostały falą hejtu, którą trudno z czymkolwiek porównać. Trudno się nie zgodzić, że sprawiały wrażenie próby adaptacji opowieści z Odległej Galaktyki na potrzeby wielbicieli sag o młodocianych wampirach z liceum. A nieszczęsny Jar Jar Binks doczekał się statusu jednej z najbardziej nienawidzonych postaci popkultury. Przed J. J. Abramsem nie lada zadanie, ale wokół nowego teasera zdaje się zbierać fala uznania.
To, co sprawia, że na siódmą część sagi czekam z naprawdę wielkim apetytem, widać dokładnie w przywołanym na początku pierwszym ujęciu. To nostalgia. Dokładnie to, czego fanom wychowanym na klasycznych Gwiezdnych Wojnach zabrakło w nowych częściach, gdzie świat Gwiezdnych Wojen wyglądał jak srebra rodowe oczyszczone w jakimś chemicznym superśrodku: wszystko na pełen połysk, cacuszko, a jednak to nie to. Tymczasem "Przebudzeniu Mocy" można chyba wróżyć sukces: bo wracając do opowieści sprzed lat, odruchowo ma się nadzieję zobaczyć patynę. A mówimy przecież o opowieści rozciągniętej już na cztery dekady. To dwa pokolenia.
Patynę i nostalgię powrotu nowy teaser obiecuje jednoznacznie. Na nich zbudowana jest siła jego pointy. Ale na sukces "Przebudzenia Mocy" można mieć nadzieję nie tylko ze względu na fakt, że będzie R2D2, że Luke'owi sypnął się wreszcie zarost, i że Harrison Ford z wiekiem fantastycznie zyskuje – a nie ma wielu przyjemniejszych motywów popkulturowych niż "powrót starego bohatera po latach" (nota bene: na pierwszy rzut oka wygląda na to, że Chewbacce nie przybył ani jeden siwy włos). Mam tę nadzieję także dlatego, że kino wyrosło już trochę z fetyszyzowania efektów specjalnych, na który to fetyszyzm cierpiały trzy "nowe" części. W czasach, gdy hollywoodzkie komputery potrafią wygenerować wszystko, to nie efekty są już najważniejsze, lecz – zawsze koniec końców najważniejsza w popkulturze – opowieść. I na to bardzo liczę.
Z resztą, zobaczcie Państwo sami.
Dopiero kwiecień, a my już się nie możemy doczekać Bożego Narodzenia.
PS. Dyskutowaliśmy niedawno z redakcyjną koleżanką o cyfrowych remake'ach klasycznych "Gwiezdnych Wojen". "Chodzi ci o ten remake, który był w kinach, jak byłam dzieciakiem?" – rzuciła w pewnym momencie. Wtedy dotarło do mnie, że gdy ja byłem dzieciakiem, w kinach był "Powrót Jedi". To w temacie patyny…